A little spring time birdie has been visiting us lately! I read a similar idea on magicalchildhood.com and changed it a bit. But this fun little new springtime tradition that Miles has enjoyed is: every few days this bird flies in to our house and finds a spot to land for the day. Miles tries to find him and then we sing fun songs and chirp like birdies together
.
Wanted to pass along a few fun blog links/finds I have been inspired by lately:
icanteachmychild: Oh my goodness, I don't think I have ever seen so many fun ideas for kids on one site. She has them grouped by age and....ahh I got so giddy looking at all the fun things I want to do. Here is one really quick thing we copied from her since Miles is loving the Dr. Seuss book "Ten Apples Up On Top"
Impress Your Kids: This is also a really fun find. My friend Rochelle passed it along to me and I have loved it as well. The blogger came up with the title from Deuteronomy 6:4-9 that says
"
T
hese commandments that I give you today are to be upon your hearts. Impress them on your children. Talk about them when you sit at home and when you walk along the road, when you lie down and when you get up. Tie them as symbols on your hands and bind them on your foreheads. Write them on the door-frames of your houses and on your gates".
She has so many cool activities and projects that use scripture and Bible stories. It made me realize how little I've integrated this into Miles' everyday, this site has given me great ways to do that using scripture and making it fun for him.
Last but not least: most everyone has heard of the Pioneer Woman at this point. But I have to suggest these two specific recipes from her site. The first is one that my cousin Betsy raved over. SHE WAS RIGHT. It was SO good. We all licked our plates clean. The second one- muffins my sister passed on to me, but holy cow, if you can actually call them muffins they are more like mini pies that melt in your mouth!
Clearly I don't come up with much on my own, love to get ideas from far more creative people then me. But I sure do love passing on a good idea when I find one. So there you go....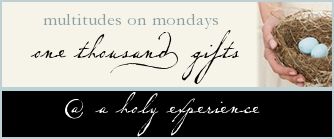 Anne at A Holy Experience is counting her blessings every monday as a practice and discipline of gratitude, so I am joining in.
a little boy able to run outside like a bird out of its cage
celebrating my beautiful mother's 53rd birthday- to celebrate all that God has done for us, praising Him for giving me such an amazing mother and every day and year that she is here is now an immense answer to prayer
thankful for TURNIPS - a wise woman shared a really powerful analogy with me that has been sticking so deep in my heart. She drives past a field often during the trip from her house to church. She noticed that a farmer who owns the land planted turnips in different parts of the field, enough that she took note, thinking that was kind of strange. She watched them grow and wondered why he was planting turnips. Then one Sunday as the drove by the turnips were cut down and just laying in the dirt. Why would he do that? Why would he plant these turnips and then just cut them down? She asked a farmer at her church about it, and he said, "farmers plant turnips in areas where the soil is too hard, soil that wont yield a good harvest. They plant the turnips and return them to the soil to soften the soil and make it good soil, ready to really grow something of worth." WOW....there have been areas in my life that I feel like God is opening my eyes, revealing a new path, or showing me a way in which He wants to use us. I step out in faith and sense God stirring only to feel like I am to wait on Him to move or it seems like it never comes to fruition. This analogy was spoken to me at exactly the right time, TURNIPS, it's TURNIPS.
God is planting turnips in my life, in my hard soil, in my places that he wants to plant grow something of great worth.
Oh my goodness, then it's his amazing GRACE, it's his LOVE for me.
Not his distance or silence. It's his LOVE. TURNIPS.